Tel.: +36 20 21 21 21 2 · Fax: +36 27 543-571 · E-mail: kistraktor@kistraktor.hu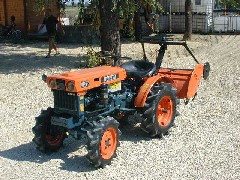 UNITRAK Ltd. is the Central-European importer and distributor of used Japanese farm machinery. We are located in Dunakeszi, Hungary. Our core business is focused on compact farm tractors. We usually stock about 50 units (see our updated stock in English) and our portfolio is the widest in the region: machines from 11 to 40 HP are readily available. Most of our tractors are stored in customs-free warehouses in order to make reexport easier and more efficient. We import all the major Japanese brands: Kubota, Zen-Noh, Yanmar, Mitsubishi, Iseki, Hinomoto, Shibaura, Kumiai, Satoh, Suzue, Noda.
Tractors are available in the following quality groups:
"as is" - as they are unloaded from the container. All units are graded according to their condition. Highest grade is 10.
"reconditioned" - The machines are reconditioned in Hungary. We give the highest service-level currently available on the market. (6 months bumper-to-bumper, onsite warranty, free delivery, free consulting in 5 languages + the highest quality you can find.) *These units are not available from customs-free zone.
"factory reconditioned" - the highest quality available. These units are being rebuilt in Japan using factory-spec parts. The tractors have extremely low hours (30-200) and they function like new, while prices are about 1/4 of a new unit. This is the highest value for money currently available in Central-Europe.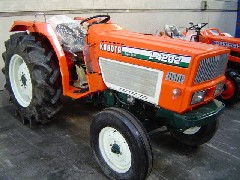 Deutsche Seite
Die Firma UNITRAK GmbH importiert und vertreibt gebrauchte japanische Landmaschinen. Die Firma befindet sich in Dunakeszi, Ungarn. Unsere Hauptprodukte sind die Kompakttraktoren. Wir lagern ständig ca. 50 Stk., unser Auswahl ist am breitesten in der Region: Maschinen von 11 bis 28 PS sind sofort erreichbar. Die meisten Traktoren werden im Zollfreilager gelagert, um einen leichteren und günstigeren Reexport zu leisten zu können. Wir importieren alle wichtigen Marken, wie: Kubota, Zen-Noh, Yanmar, Mitsubishi, Iseki, Hinomoto, Shibaura, Kumiai, Satoh, Suzue, Noda. Kontaktperson für deutschsprachige Kunden: Dipl. Ing. Tibor Kurucz
Wir liefern folgende Qualitätskategorien:
"as is"wie aus Japan angekommen. Alle Maschinen sind abhängig von deren Qualität von 1 bis 10 eingestuft.
"reconditioned" - Erneuert in Ungarn. Wir liefern den besten Qualität auf dem ungarischen Markt (6 Monaten volle Garantie auf ihrem Standort (nur für Ungarn), kostenlose Auslieferung (nur für Ungarn), Konsultation in 5 Sprachen. *Diese Geräte sind nicht erreichbar vom Zollager
"factory reconditioned" - Höheres Niveau ist kaum zu erreichen. Die Vollerneuerung wurde in Japan durchgeführt. Die Laufleistung beträgt 30-200 Arbeitsstunden, während der Preis ist nur 1/4 gegenüber dem Neupreis. Die beste Qualität in Zentral-Europa für ihr Geld.